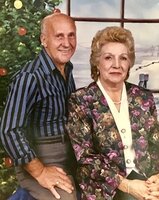 Perley Maynard Curtis
PERLEY M. CURTIS
4/23/32 - 5/13/22
NEWPORT, ME - Perley Maynard Curtis, 90, passed away May 13, 2022. Perley was a Maine native who worked at and operated a mechanic shop for close to 40 years in Exeter, ME. He was a country music lover and a classic car buff.
Perley was preceded in death by his parents, Albert Horace Curtis and Ivadean Mae Curtis (Harris), brothers, Martin Curtis and Albion Curtis, sisters, Dorothy Carlton, Ellen Carmody, Marion Smith, Linnie Curtis and Florence Winslow (Monroe), son, Maynard Allen Curtis and his wife of 68 years, Stella Mae Curtis (Henderson), who passed away on May 31, 2018, at the age of 85. He is survived by daughter, Tressa Roxanne Healey (Brian), sons, Perley Robert Curtis (Erin) and Duane Jarvis (Kathleen), 8 grandchildren, 7 great-grandchildren and 6 great-great-grandchildren.
A celebration of both Perley and Stella's lives will be held at Exeter Elementary School/Town Office in Exeter, ME on Saturday, July 23, 2022. Details to follow.