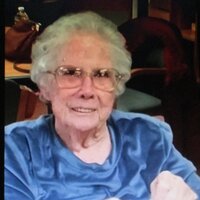 Annie Belle Seavey
Annie Belle Seavey, 98, passed away peacefully on Tuesday, April 26, 2022, in Millinocket, Maine. Annie was born in Medway, Maine on February 6, 1924, to David and Florence Thompson Cram.
Her first marriage was to Everett E. Hale, the father of her children: Albert E. Hale, Frederick S. Hale, Everett (Skip) Cram, Pamela J. McLain, Galen S. Hale, Daniel P. Hale and Michael W. Hale. Annie lost her husband Everett at a young age and then was married to Walter (John) Seavey for 35 years. Annie had two step children, Rebekah Seavey Pendleton and Gerald Seavey.
Annie lived a fulfilled life and as she always said, "Life Is Good." Annie had a strong faith in her Lord and Savior Jesus Christ and often read the bible and prayed. She was a giver and helped many people over the years with her kindness.
Annie was predeceased by her parents, two husbands, sons Albert, Fred and Skip, her two step children, 12 siblings, granddaughter Joyce McLain and great grandson Gage Hale. Annie is survived by 4 children, Pam, Galen, Dan and Mike, numerous grandchildren, nieces, nephews, other family and special friends.
Annie's family would like to thank the staff at Katahdin Healthcare in Millinocket for their loving care during the last two years of Annie's life.
At Annie's request, there will be no viewing or funeral. Graveside services will be held in Medway at a date to be announced. In lieu of flowers, the family is asking you to spread kindness, just as Annie did.
Condolences may be shared with the family at cremationbasics.com