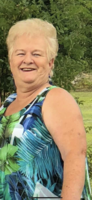 Nancy Alma Badger
Guilford-- Nancy Badger, 75, was called home by her Lord and Savior Jesus on April 1, 2022, in Bangor. She was born June 9, 1946, in Greenville, the daughter of Kelton and Thelma (Leavitt) King.
She enjoyed crocheting, knitting, BINGO, spending time with her family and always ramming the roads.
She is survived by her boyfriend Dean Dumais; son Michael King; two daughters Cynthia Elaine Herrick and husband Sam, Brenda Kay Jones and her husband Daniel; four sisters Shirley Collins, twin sister Linda Ames, Bonnie Jones, Gail Raye and husband Barry; brother Rogan King; as well as several grandkids and great grandkids. She was predeceased by her mother Thelma (Leavitt) King and father Kelton King; as well as her brother Billy King.
A celebration of life and time of sharing will be held at a later date.

Condolences may be shared with the family at cremationbasics.com