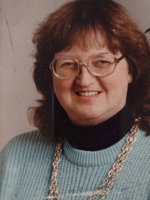 Judith Arlene Orcutt
Judith Arlene Orcutt, 80, of Orrington passed July 19, 2021. She was the daughter of Irving and Evelen Ward/Scripture of Orrington.
Judith was a mother, wife, daughter, sister and dear friend to anyone that had the joy of knowing her. Judith's younger years were spent raising her two children. Breeding Shelties and Collies and taking care of our farm. She had a passion for horses and loved going to horse shows. Later she and her husband Billy Orcutt of Dixmont/Orrington had a love for Country and Bluegrass music, traveling all over the state playing and singing. They made a lot of friends along the way. Judith retired from St Joseph's Hospital after 17 years of faithful service.
She was predeceased by daughter Rhonda Wallace. Judith is survived by son Michael Orcutt of Etna and his sons Damien and Brazen Orcutt; son-in-law Arther Wallace, Jr. of Brewer; adopted daughter Diane Baily of Lewiston; grandson Ryan and wife Taryn (Clark) Orcutt of Bangor; extended family and friends Judith will be dearly missed.
Services are pending at this time and will be posted at a later date. Condolences or donations can be sent to Mike Orcutt, 461 Old County Rd., Etna ME 04434, or shared at cremationbasics.com