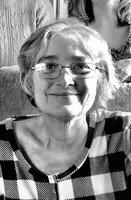 Tina Marie Gott
Tina Marie (Tardiff) Gott, 54, formerly of South Brewer, passed peacefully while surrounded by loved ones after a courageous battle with cancer on December 28, 2020. She was born August 25, 1966, the daughter of Arthur, Sr. and Lillian (Morin) Tardiff.
Everyone knew her infectious laugh, salt and pepper shaker collection, love of cooking, entertaining, bargain hunting, and yard sales. Tina loved the ocean and collected seashells. She had the gift of gab and a big heart, wanting to do anything for anybody. She worked hard developing her cleaning business and had a great rapport with her wonderful clients.
In addition to her parents, she was predeceased by her brother, Arthur (Nicky) Tardiff, Jr. and numerous aunts, uncles, and cousins.
Surviving are her husband, David Koziol; daughter, Mandi Mitchell; step-daughter, Brianna Koziol; brothers Michael, Sr. (Bubba) and Phillip Tardiff; sister-in-law Sheila Tardiff; nephews and nieces, Michael, Matthew, Samantha, and April; and many aunts, uncles and cousins. She is also survived by very special friends, Suzanne Ripley; Bridget Murray; Michelle Vachon; Melody and Keith Morse; and a very special aunt, Carol Cirard.
Thanks to numerous friends and family who visited, cared for, and thought of Tina during her illness. Special thanks to her healthcare providers at Mary Dow Center and Northern Light Home Care & Hospice of Ellsworth.
Condolences can be shared with the family at www.cremationbasics.com. Celebration of life and burial to be held next summer.