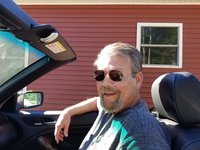 Levi Fenton Dam
Otis--Levi F Dam Jr., 65, died Dec. 24, 2020 at home with his wife, daughter & loved ones by his side. He was born March 8, 1955 the son of Levi Dam Sr. and Shirley (Sibley) Campbell.
Levi graduated from Bucksport High School in 1974 where he loved to play football for the Bucks. He enjoyed fishing with Kim, hunting with Atwell, watching football with Dexter, throwing horseshoes with Cheri and cards at Scott's. He could be seen enjoying many of conversations with his nephew Tanner, niece Ashleigh & many other visitors. He loved to attend all of Tyler's theater performances. A captivating smile could be found upon his face while out for a joy ride. He loved his daughter and wife of 42 years unconditionally.
Levi is survived by his wife Keely of Otis; daughter Amanda, husband, Chad, & grandson Tyler of Ellsworth; eight siblings; loving family & friends. He was predeceased by his parents Levi Sr & Shirley.
In lieu of flowers donations can be made to SPCA of Hancock County, 141 Bar Harbor Rd, Trenton, ME 04605.
Arrangements by Cremation Basics. Condolences may be shared with the family at cremationbasics.com. A photo tribute will be available in January.