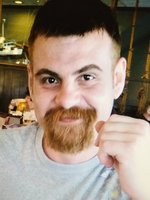 Allan James Blanchard
East Machias-Allan James Blanchard, 38, passed away on Sunday August 11, 2019 at Eastern Maine Medical Center after an accident. He was an incredible person, smart, witty, handsome and strong. He would be the first to help should anyone ask. He had those wonderful brown eyes that could tell a story. His hugs were amazing; his smile could get him "into" or "out of" trouble. He had a very loving and caring side to him that was not often seen but so remembered and loved by those who deeply cared about him. He loved the outside, either fishing, taking walks to his favorite place, working or just taking it all in. He enjoyed the swaying leaves of a Black Maple or the beautiful flowers of the orchids and irises that are in turn gone all too soon.
Allan is survived by his mother Pamela Blanchard of Machias, Sisters Kimberly Wall of Richmond, Karina Richardson of East Machias, Debbie Day of Machiasport, Paula Carpenter of Alabama and Brother Tony Blanchard of Florida. He also leaves behind his three children Carlene of Columbia Falls, Lilly of Cutler and Schade of Machias as well as many friends. The family would like to thank all of the loving staff at Eastern Maine Medical Center and New England Donor Services that was involved in Allan's care. You all made such a difficult time in our lives a little easier with your love and support.
The family invites all who wish to honor Allan's memory to a Celebration of Life which will be held at the Machias Saving Bank Community Room, 4 Center Street, Machias, Maine, on October 5, 2019 at 1:00pm. In lieu of flowers please make a donation in Allan's memory to New England Donor Services 60 First Avenue Waltham, MA 02451, as Allan's last gift was the gift of life to those he never knew.
We wish you peace, harmony and love in your new journey. You will be forever in our hearts and our memories.